September 21st, 2016 by Morna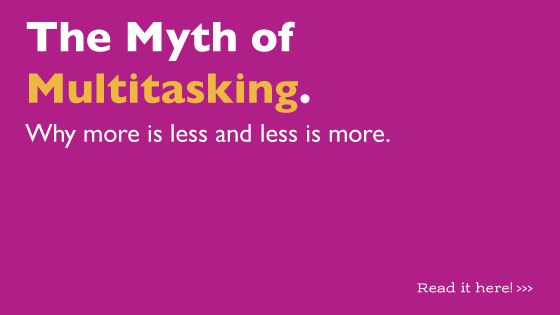 As I came back to work this morning after a two-week vacation, I faced a mountain of things to do. Where to start? Maybe I could manage to do more than one task at a time. You know, answer email or scan Facebook while listening to an online class, or straighten the studio while making a phone call, or quickly check the calendar to see if an appointment is scheduled while in a phone conversation. Quite the picture, isn't it?
Yes, I am talking about multitasking and it does not work! According to Harvard Business Review blogger Paul Atchley, studies show that multi-taskers are less efficient, perhaps by as much as 40%, than they think. He says that it takes an average of 15 minutes – and I have read numbers as high as 40 minutes – to reorient oneself to the main task. Wow – 15 minutes! Can you imagine how much time you waste on a daily basis trying to get back to the task at hand?
Many people dispute the fact that multi-tasking doesn't work, citing their own experiences. Not true, as research shows again and again.